This package is currently not offered due to COVID-19.
Read about this popular seasonal package offered in June and watch for announcement of new dates on Facebook.

This is a unique opportunity to view this rare Bicknell Thrush Bird.
Tours sell out quickly. Don't miss out – make your reservations now.
Spring is an exciting time in our area for bird watching as the migratory birds return to their nesting ground.
Can you believe that the extremely rare Bicknell Thrush (pictured above) has found several higher mountains in the White Mountain National Forest perfect for a summer home? Mt. Washington in particular is an ideal spot for their breeding ground. They prefer higher elevations, normally above 3,000 feet, with harsh climate which offers low vegetation and abundant moisture. Locating them can involve a days hike in and out and a great deal of luck in actually sighting one.
HOWEVER, for those eager to sight a Bicknell… The Mt. Washington Auto Road has streamlined the process, offering a limited number of Guided van tours on select days in June, as an opportunity to view these rare birds. The 2-hour tour departs at 6:00 am from the base of the Auto Road. Plan to arrive by 5:45 am.
You can rise and shine with the sun, grab some coffee, and make the beautiful early morning drive from Notchland to Pinkham Notch (approximately 30 minutes). You will complete your tour before 8:30 AM and can return with an appetite to enjoy a hearty Notchland breakfast before 9:30 AM.
Typically there are five or six different dates offered for this tour in June.
Please check back for the next dates offered.  Some of the tour details and rates are subject to change.
$50 per person
Advance reservations required.
Add one of these tours to your Notchland visit for a rare and unique experience.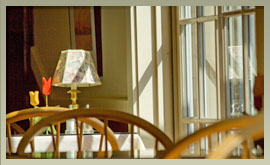 Any seat in our dining room is front row to view hummingbirds at their feeders. Enjoy a seat on the garden side of the room and you can also watch them as they visit the garden blooms. This is a show that is continuous beginning in the spring through the early fall.