Notchland Inn Menu Sampler
The following provides a sampling of the dishes that may be included in our menus. However, the Chef will often create new & different dishes at any time from the freshest available ingredients, from the market, local farms or our garden. Be sure to bookmark this page as we will update the list with recent offerings and we will be adding recipes for selected items!
SOUPS:
Creamy Four Onion
Chilled Cucumber with Lemon Rosemary Granita
Creamy Cauliflower Shallot with Gorgonzola
Mamareins's Creole Style Seafood Chowder
Cumin Scented Velvet Sweet Potato w/ Tangerine Creme Fraiche
Leek & Scallop Chowder
Manny's Portuguese Kale with Smoky Ham
Spicy Black Bean with Lemon Creme Chantilly
Two Color Carrot Dill & Creamy Broccoli
Basil Lime Gazpacho
APPETIZERS:
Uncle Gordy's Chicken Liver Pate and Crostini
Mediterranean Warm Goat Cheese with Herb Roast Olives
Baked Fresh Mozzarella Wrapped in Grilled Eggplant,
with Herb Vinaigrette
Crab Cakes with Lemon Aioli & Corn Relish
Artichoke & Three Cheese Puff Pastry Tartlet
Sauteed Sea Scallops & Lime Shallot Glaze
Parmesan Swiss Chard Custard Tart
Grilled Portobello Mushroom & Chive Crackers
Apple Cheddar Filo Triangles
Spinach Pine Nut Ravioli Tossed with Olive Oil & Garlic
Lentil Horseradish Tart
ENTREES:
Sesame Seared Ahi Tuna with Wasabi Creme Fraiche
Mustard & Crumb Crusted Haddock with Juniper Red Wine Sauce
Grapevine Skewered Lamb Kabobs with Pinot Noir Reduction
Pistachio Rolled Chicken Breast & Balsamic Bell Pepper Relish
Grilled Beef Tenderloin Steak with Dijon Mustard Demiglaze
Grilled Rack of Lamb Chops with Tapenade Vinaigrette
Chicken Breast Baked in Filo with Herbs & Blue Cheese
Salmon Baked in Parchment with Sun Dried Tomato Herb Butter
Sage & Allspice Cured Roast Pork Loin with Peach Catsup
Seared Duck Breast & Hazelnut Pink Peppercorn Cream
Herb-Crusted Pork Tenderloin with Apricot Puree
DESSERTS:
Maple Pecan Pie
Apple Pie with Maple Black Walnut Ice Cream
Caramel Pecan Tart with Chocolate Painted Crust
Chocolate Amaretto Semifreddo with Ganache
Tart Tatin with Caramel Sauce & Cinnamon Ice Cream
White Chocolate Shortcake & Fresh Berries
Rhubarb Upside down Cake
Triple Chocolate Brownies & Peppermint Stick Ice Cream
Peach Cornmeal Tart with Fresh Ginger Creme Anglaise
Trio of Fruit Sorbets with Cookies
Many a bottle of milk have been drained while enjoying
our famous 'Coco Loco' cookies!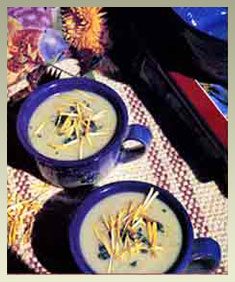 Potato and Herb Soup with Calendula brings our gardens to the table.


If you have any dietary restrictions, please let us know when you make your reservations.