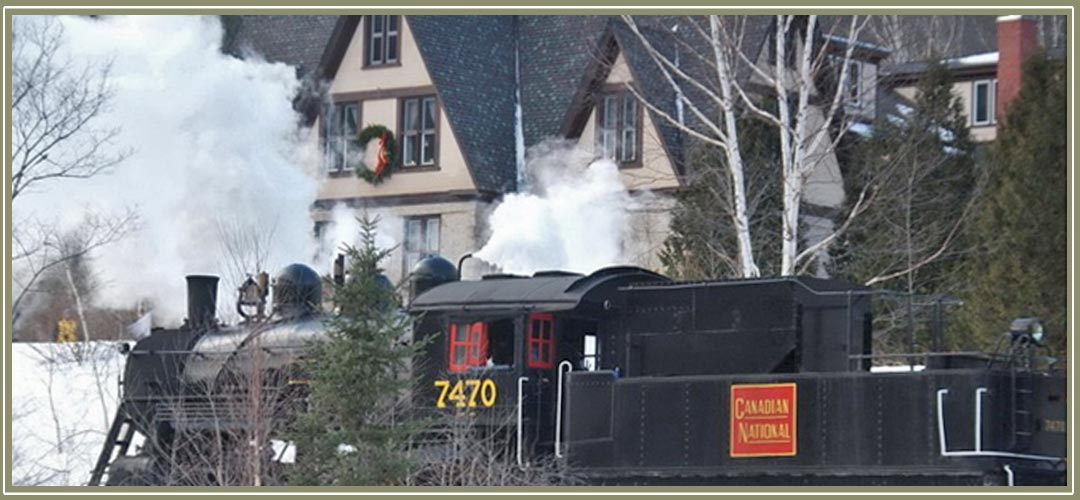 Things to Do "Inn Our Back Yard"
The White Mountain Region of New Hampshire is home to Mt. Washington, the highest peak in the Northeast, and the White Mountain National Forest. Both provide spectacular scenery to enjoy while driving, hiking, biking, canoeing, golfing or skiing, and nearly endless opportunities for outdoor recreation including over 450 km of cross country ski trails to explore.
Along with outdoor concerts, summer theatre, and tax-free shopping at hundreds of name-brand outlets, boutiques, craft and antique shops and galleries, this area has been a popular vacation destination for over 200 years. For seasonal information, review our ideas for Summer Fun and Winter Fun. Here are some of our suggestions of Things to Do "Inn Our Back Yard" throughout the year …
 
Adventure
Hundreds of miles of hiking, including the Appalachian Trail, and the Crawford and Davis Paths
Snowshoeing trails – back-country and groomed trail systems abound
Fishing, canoeing, swimming, and kayaking in the rivers and lakes
Minutes to 6 major downhill ski areas (Attitash/Bear Peak, Black Mountain, Bretton Woods, Cranmore, Wildcat, Cannon)
A short drive to hundreds of kilometers of cross-country skiing (Jackson Ski Touring, Bear Notch Ski Touring, Great Glen Trails, Bretton Woods, Mount Washington Valley Ski Touring)
Back-country snowshoeing and cross-country skiing from our door
Rock- and ice-climbing at sites such as Frankenstein Cliff, and Cathedral and White Horse Ledges
There are indoor and outdoor tennis courts in nearby towns including North Conway and Bethlehem. There are several wonderful golf courses in those towns, too, as well as several driving ranges in Bartlett and Intervale.
Indoor and outdoor skating can be found in the Conways and in Jackson, just a short drive away.
Horses are available in several nearby locations for lessons and/or guided trail rides.
Nature's Bounty
White Mountain National Forest – 1,000,000 acres of woodland
Mount Washington, the highest mountain in the Northeast US (with a summit known for the worst weather in the world)
Waterfalls and cascades, including Arethusa Falls, The Flume, and Diana's Baths
Crawford Notch State Park 6,000 acres of wooded mountains and valleys
The Saco, Ellis, Wildcat, and Swift Rivers watershed areas
Mountain vistas of New Hampshire's famous notches, including Crawford, Franconia, and Pinkham
Rock formations such as "Elephant Head"
Countless scenic drives in all seasons, but world-famous for Fall color
Our dooryard garden has been judged best in its class repeatedly in the Mt. Washington Valley Garden Trails competition. We also have close ties to several other wonderful local gardens.
The Valley is home to myriad farms with associated farms stands on all the major highways. Products range from fresh eggs to produce, to flowers, gourds, pumpkins and apples.
A visit to Schartner's Strawberry Farm in North Conway in early July is a great opportunity to "pick your own" and to purchase their homemade jams and jellies.
Christie's Maple Farm is a short drive away past heavenly mountain vistas
Tax-Free Shopping/Factory Tours
Nearly 200 factory outlet stores in the valley
Tuckerman's Brewery in North Conway offers tours and tastings
Antique shops – hundreds of dealers represented in private and co-op shops
Art galleries – individual and collective galleries throughout the valley
Handicrafts stores, ranging from juried exhibitions to the individually eclectic
Heritage
The Covered Bridges of Carroll County (dozens within an afternoon drive)
Bretton Woods – Site of the 1945 World Monetary Conference and home to the Mount Washington Hotel, one of the "Grande Dames" of Victorian hotels
Frankenstein Trestle – One of the oldest, longest and highest mountain train trestles in the world
Mount Washington's Cog Railroad – The oldest cog railway in the world, it goes to the summit
The Mt. Washington Auto Road – The oldest manmade attractions in America
Hart's Location is the smallest town in NH, and the site of the first votes reported in national elections
Pop Culture, Fairs and Festivals
9 screens for current movies
Wildquack River Festival "Rubber Ducky Race " Hundreds of rubber duckies brave the rapids of the Wildcat River for charity (Memorial Day Weekend)
Fryeburg Fair – Maine's Blue Ribbon Classic, the largest and oldest country fair in the Northeast is less than 30 miles away (late September/early October)
Mud Bowl – Charity football game played by amateur teams in a mud-filled stadium (mid-September)
Return of the Pumpkin People! Jackson and its environs are invaded by festive Pumpkin People expressing a variety of themes and attitudes. (1st 3 weeks of October)
Official NH Snow Sculpture Competition (Late January/Early February)
Movie and Book Locations:
Mount Washington Hotel in Bretton Woods was one of the sites of the film "The Shining".
North Conway and Conway Lake were the sites for the film "The Good Son".
"Secaucus Seven" was filmed in the Nancy Gorge on Notchland's property.
Crawford Notch – Location of Nathaniel Hawthorne's The Great Carbuncle.
Lucy Crawford's History of the White Mountains – focuses on the Notch that bears her family's name
Fine Arts:
M&D Productions (5 to 8 plays year-round in North Conway)
The Barnstormers (Summer stock, 8 – 12 plays annually in Tamworth)
Live music in venues almost every night of the week, year round – The Mount Washington Valley is home to a wide range of talented musicians and music ranging from classical, to pop classics, to folk, to Celtic traditions and innovations, to rock
Stone Mountain Arts Center in nearby Brownfield, Maine is a unique timber frame music hall hosting national acts up close and personal
Art in the Park – 2-day outdoor show and sale of hundreds of New England artists (late July)
White Mountain Arts Festival – a juried art and artisans show in the park in Jackson, NH (August)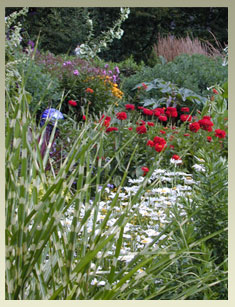 The Notchland garden show begins as soon as the days begin to get longer, the temperatures start climbing and snow finally melts. Plan your visit to enjoy our award-winning gardens.

Or plan your visit to attend one of these many area annual events…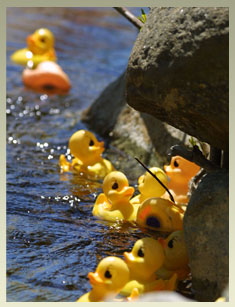 Wildquack Duck Race – May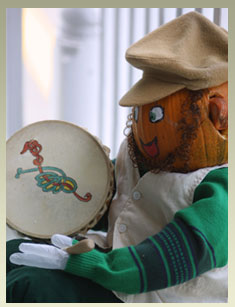 Return of the Pumpkin People – October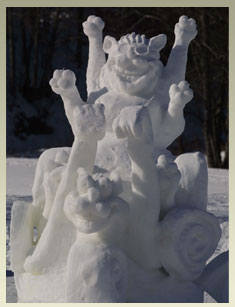 NH Snow Sculpting Competition Late January/Early February