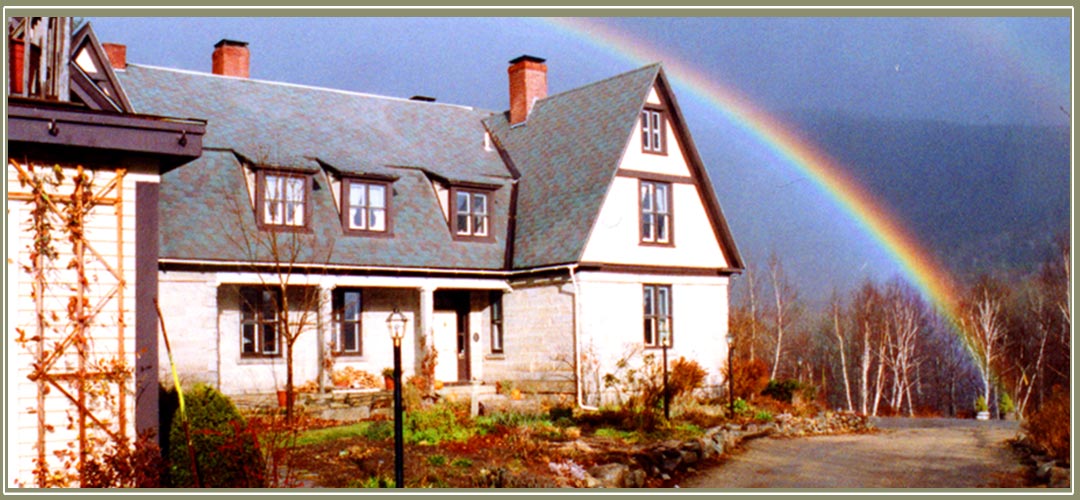 We are often asked how we found the Notchland.
When we began looking in earnest for an inn, it was the Summer of 1990. After more than a decade in NYC; renovating two brownstones, each more than 125 years old; preoccupied with "cosmopolitan careers" and driven by the daily mill of the megalopolis, the glimmer of hope that there might be a more pastoral surrounding in which to work, live, and thrive was more than appealing. It was becoming a necessity to think in terms of "moving on".
The search started nationwide and soon narrowed to the Northeast, then to New England, and finally to only New Hampshire and Vermont. Armed with our individual criteria as well as those we mutually shared, scores of properties were driven by, stayed at, passed over. Three years later, after several close calls . . . delayed by banks, owners, weather, and lack of time . . . we were encouraged to "make one more trip."
We drove down Route 302 and up the drive to look at yet another property and knew, in that first look, that The Notchland Inn was going to be our next home. An inspiring setting framed a unique property with just the right amount of warmth, grace, and elegance. Three months later it was ours to work on, care for, and develop.
From the outset of our search, we had said that the right property would "sing" to us. From that first moment, Notchland sang a fine tune and, though being an Innkeeper is demanding at times, her song grows richer and more enticing each day.
Welcome.

Meet the Keepers of the Inn …
Ed Butler and Les Schoof
pictured here with their beloved Berners
Crawford and Abby