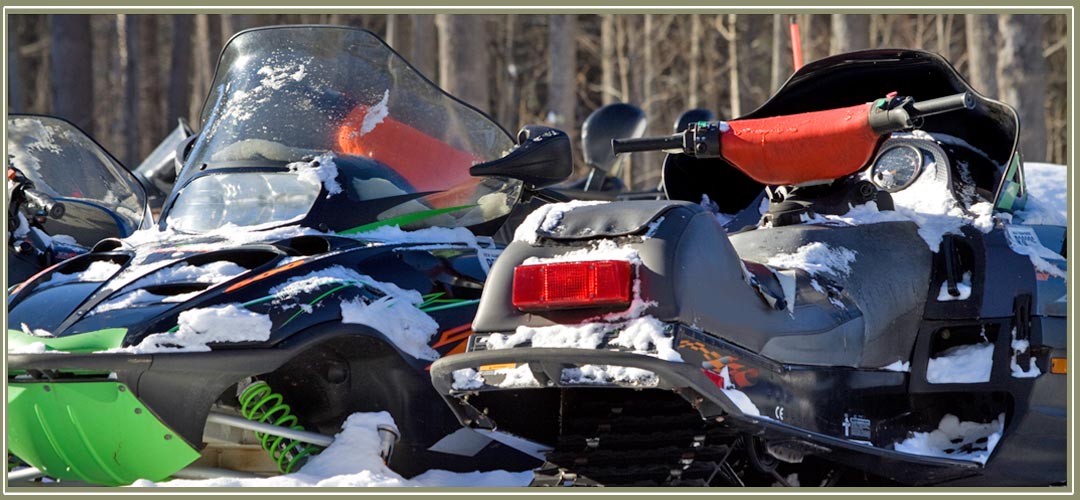 This package is currently not offered due to COVID-19.
Read about this popular seasonal package offered in the winter months and follow us on Facebook for an announcement to say it is offered again.

Northern Extremes Snowmobiling is just down the road (oh, 6 miles or so) in the center of Bartlett Village. From there they have two hour guided or independent rentals up Bear Notch Road into the National Forest.
Take a self guided snowmobile tour on the Family Friendly Bear Notch snowmobile trail system, a 50 mile closed loop trail. Stop at scenic vistas, picnic along the way and enjoy spectacular views of Mt. Washington and Mt. Chocorua. Trails are patrolled and groomed daily. Or for those heartier types – 1/2 day and full day tours and rentals are available. They even offer clothing rentals of boots, jackets, pants and gloves to be sure you are properly outfitted to enjoy your ride.
If you choose one of the runs that starts up in Bretton Woods, they'll stop at Notchland to pick you up!
Peter, the owner of Northern Extremes Snowmobiling, is giving us a package price which we'll pass on to you.
SAVE 10% on weekend or 15% midweek from published rates below!
Two Hour Guided Tour with individual sleds…
Midweek: $95 per person or Weekend: $105 per person
Two Hour Guided Tour with double sled…
Midweek: $125 per sled or Weekend: $135 per sled
Rates are subject to change when this package is offered again.

Wanna try it? First time riders have a blast! And we're sure those of you who have been on these machines before will also have a great time. They have quite a fleet! Visit their website at Northern Extremes Snowmobiling.